Handling simple maintenance jobs yourself will save you from calling a professional. These guidelines will help give you the know-how when it comes to basic painting projects.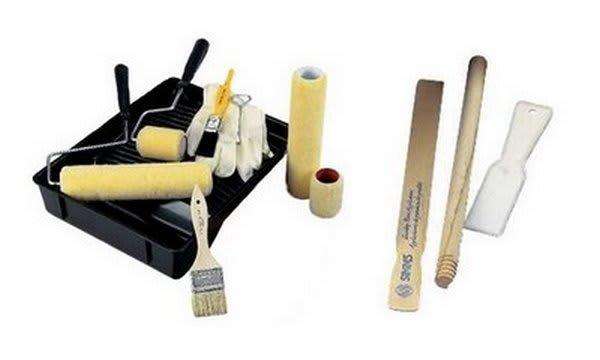 Painting and scraping tools
Paint roller pan, sleeve and frame.

Choose a professional-quality roller sleeve. A medium nap is the best choice for most surfaces. The roller frame should spin smoothly.

Paint roller extension pole.

A threaded pole will allow you to paint ceilings and walls without a ladder.

Drywall tools.

With 15- and 20-centimetre (six- and eight-inch) taping blades, you can feather on subsequent layers of drywall compound for smooth patches on walls and ceilings.

Paint pads.

A wall pad is 15 to 25 centimetres (six to 10 inches) wide; an edge pad is narrower and suitable for trim. Pads apply paint evenly and work faster than brushes but slower than rollers.

Putty knife.

A flexible blade spreads and smooths wood putty and filler, glazing and spackling compounds, patching plaster and other similar materials. The type with a stiff blade scrapes away paint, glue and wallcoverings.

Sanding block.

A block holds abrasive sheets and makes sanding much easier than using a piece of sandpaper alone. Several types are available.

Caulk gun.

This tool holds a tube of caulk. To fill holes and seal cracks with caulk, squeeze the trigger; the bar will exert pressure on a disk, pushing material out of the tube.
Using these guidelines will help you tackle basic painting projects yourself, without calling a professional.