Sometimes a new colour or wall design is the best way to spruce up a room. Before you get started, here are some tips that will make the job much easier.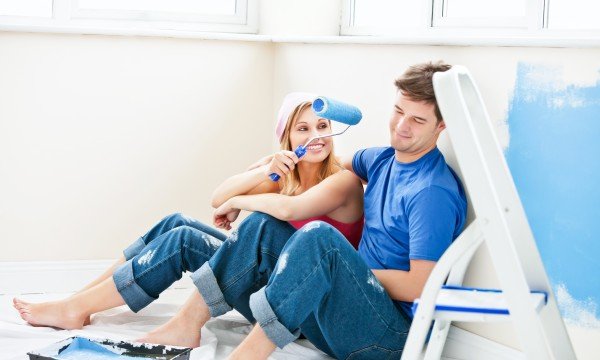 1.  Re-plaster the room for less
Use thick lining paper to give walls a smooth surface, then coat with emulsion paint.
Get rid of stained patches by smoothing the plaster with sandpaper.
Use oil-based paint to seal the stain, leave to dry, then paint with oil-based eggshell.
If a leak makes internal plaster bubble, scrape out the damaged plaster and repair with ready-mixed plaster.
Prime with emulsion diluted with up to 10% water, then paper or paint with emulsion.
2.  Prep the wall and choose your paint
Painting a wall usually costs less than covering it with wallpaper.
Make sure your walls are as smooth as possible before starting to cover them with paint, paper or tiles.
Paint sample patches on all four walls of a room. Examine each colour under natural and artificial light to see if you still like it.
If you want a bright colour of paint, save money by buying cheap white emulsion and adding a strong-coloured emulsion until you get the desired shade.
Make a note of exactly which colour you added, and how much, in case you need to make up more paint.
3.  Selecting a wallpaper
Check out the sales at your local decorating stores, and online shopping outlets that sell designer wallpaper at a discount all year round.
Just like paint, look at wallpaper samples in the room you intend to decorate in both daylight and artificial light.
If you select an expensive wallpaper, use it as a focal point and hang it on one wall only.
Combine textured paper with paint for an economical yet stylish look.
4.  Regrouting and tiling
Look out for cheap tiles in factory stores and discount warehouses.
Paint over old tiles for a new look at a fraction of the cost of re-tiling.
Clean the tiles and remove all traces of dust, then apply a tile primer, followed by tile paint.
Give aging tiling a fresh look by regrouting.
Scrape out as much of the old grout as possible — you can buy a grout removal tool for around $11 or make your own from an old hacksaw blade.
Regrout, using a Popsicle stick to smooth the grout between the tiles.
Save retiling whole areas by just replacing any damaged tiles.
Wearing safety glasses, drill a hole in the centre of a damaged tile and chisel it out along with old grout to give a flat surface, working from the centre. Then replace and regrout.
If matching tiles aren't available, replace with tiles in contrasting colours.
A simple change of colour can easily update a boring room to reflect your personal style. Do it yourself with these tips and save money that you can put towards new furniture and other decorations to complete the room.