Thinking about painting or wallpapering a wall that's past its prime? Although fixing small holes are good start in prepping surfaces, washing painted walls and removing stains beforehand is a must. Here are some other tips.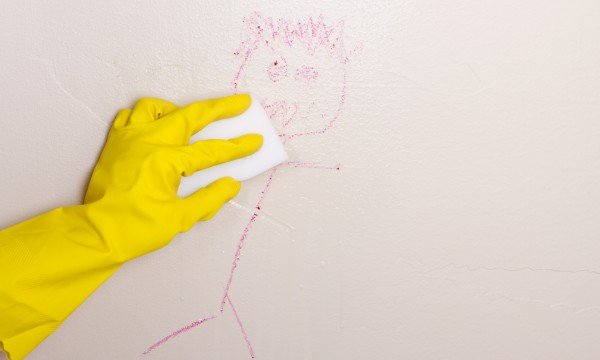 1. Use the right tools and technique
Walls and ceilings that are in heavily trafficked areas, near the kitchen, or near a fireplace or furnace will likely have a uniform film of grease on them and will need to be washed thoroughly.
Washing walls takes a lot of preparation time and hard work, but it is essential if the wall is dirty and the new paint or paper you are about to apply is to adhere properly.
If you don't have the time or inclination to properly do the job, hire someone. The cost typically runs to about a third of what a professional paint job costs.
To check if you need to wash a wall, spot-clean an inconspicuous area. A big difference between dirty and clean means a washing is in order. To do the job efficiently:
Use an abrasive cleaner for run-of-the-mill soiling
Add a touch of mineral spirits on a rag to clean oily spots.
Use a sponge mop to wash the walls a section at a time
Work from bottom to top, making sure to squeeze the mop frequently to help prevent drips.
When you're using a sponge, water is likely to run down onto your arm; tie a washcloth around your wrist for protection.
Use a two-bucket technique to make your cleaning solution last longer
You'll find the solution stays clean longer, too.
Fill one bucket with cleaning solution and the other with clean rinse water.
Use a sponge mop or rag dipped in cleaning solution to wash walls.
Rinse away the dirt from the cleaning sponge or rag repeatedly in the bucket of clear water before dipping it back into the bucket of cleaning solution.
If you prefer using cloths for washing walls, use only white or off-white ones
The cleaning solution can cause some dyes to bleed.
Don't strain your back to clean walls and ceilings
Use tools that will do the reaching for you.
Choose long-handled sponge mops or other tools that are threaded to accommodate an extension pole.
2. Always be safety-conscious
Remember to always be careful cleaning near electrical outlets and when working with chemicals.
Keep water and wet cleaning cloths away from electrical receptacles.
Keep all mops, brooms, buckets and ladders close to the wall so no one will trip over them.
Be mindful of the chemical cleaners you use and never directly inhale the fumes.
3. Carefully dry the wall afterwards
Drying is just as important as washing, and the process is crucial in keeping your walls clean and prepping for painting and wallpapering.
After you wash a wall, dry it from floor to ceiling with a clean towel to prevent streaking. Use terry towels with a high cotton content for maximum absorption.
Once you have completed the dusting and washing, you may be pleasantly surprised to find that the walls and ceiling are in better shape than you imagined. You may want to reconsider painting or repapering.
High quality gloss and semi-gloss paints hold up well and look almost new again after washing. This is, incidentally, a good reason to use higher quality paints. However, the same does not hold for flat paints. Whatever the quality, once flat paints are soiled, they don't tolerate washing very well.
There you have it – three easy steps for washing walls and prepping for your next big decorating project!