Does your living room need a makeover? Use these clever designer tricks to transform a dull room using pieces of fabric or wallpaper.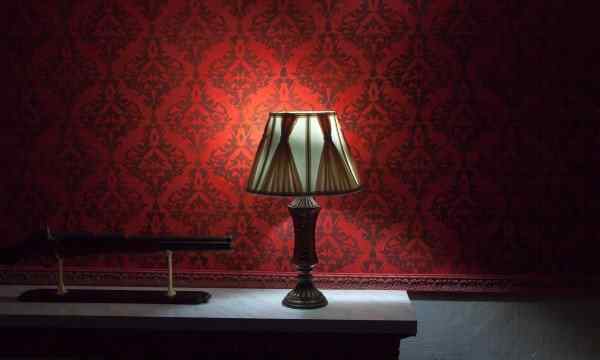 Think of your sofa as your favourite shirt
In other words, cover it in a colour you love to wear instead of in a neutral — what most people choose — that disappears in the room.
If you choose your favourite colour, one that looks best on you, the sofa will take centre stage. You'll never get tired of sitting on it or looking at it.
Use bold fabric patterns in small doses
A little pattern on a footstool or accent pillows will go a long way.
It won't overwhelm, but it will still stand out.
This is a good way to use an expensive fabric you love without having to break the bank buying several yards to cover an entire couch.
For large chairs, choose a small print
If you're covering a large chair, like a wingback, choose a small-print fabric.
The chairs are dramatic enough. A small print helps balance that drama and looks more sophisticated.
Choose the fabric right for your family
Got kids? If so, choose a forgiving sofa fabric.
Patterns help hide spills and crumbs. You probably know that by now.
Did you also know that a fabric with a texture — a cotton velvet or some other textile with a pile — will do wonders for masking the mess? Try it. You'll worry less and enjoy more.
Dress up boring window shades
Those vanilla-coloured roller shades are about as blah as it gets. They're inexpensive and they do their job. For a few dollars more, you can transform the shades — and an entire room in the process — by gluing a bold wallpaper print to the insides of the shades.
This works best with shades 68 centimetres(27inches) wide or less — the width of a standard wallpaper roll.
Measure the length of the fully extended shade and cut the wallpaper to fit, leaving an extra five centimetres (two inches).
Roll out the shade and cover it with wallpaper adhesive using a sponge roller.
Lay the wallpaper on the glue, letting the extra five centimetres (two inches) wrap under the bottom of the shade.
Use a rolling pin to smooth out air bubbles. Trim away any excess wallpaper.
Because the wallpaper makes the shade a little harder to roll up and down, this trick works best on windows where you don't mind leaving the shade partially down.
Make a decorative bulletin board
Large acoustic ceiling tiles — the kind of thing you see in office drop ceilings — make great inexpensive bulletin boards.
Go to your big-box home centre. Look for the size tiles that appeal to you; 60-centimetre-square (two-foot-square)tiles cost about $25 for a box of four.
Wrap them in the decorative fabric of your choice (leave a slight overlap and glue the edges to the back). You can tack these directly into your wall or paint a lightweight hollow-core door and attach the fabric-wrapped tiles to the door in a neat row.
Lean the door against the wall — and voilà! — you've got an inexpensive message board.
All of these simple tips can help liven up a dull room without being overwhelming. Try a few of these tips and see what combinations work for your taste.