Give your room a new look with a fresh coat of paint. Here are some easy techniques that will help you paint like a pro!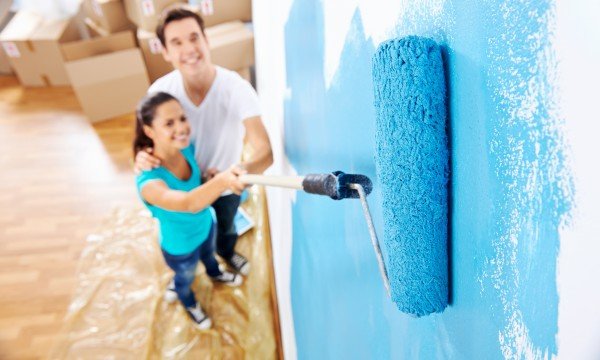 General painting tips
Try to be systematic when painting.
Start with the ceiling. Any paint that splatters on walls or drips onto woodwork can be washed off later.
Then move to the walls, starting with the wall that has the most open space and the least trim. Paint the wall from top to bottom, beginning at one end.
Start by "cutting in" along the juncture of the wall and ceiling.
Cut in an area approximately one metre (three feet) long and 15 centimetres (six inches) deep.
Move the ladder often to avoid stretching. Then, before the cut-in strip dries to create lap marks, use a roller to lay paint on the open expanses of wall beneath.
Control paint with a trim brush
If you choose to use a trim brush, load a controlled amount of paint.
Dip no more than a third of the tip in the paint, and tap off any excess.
Hold the brush at an angle and work away from the edge, using long, deliberate strokes.
Apply just enough pressure to bend the bristles as you draw the brush away; this will force a bead of paint into the angle and make an even edge.
The proper roller technique
To ensure that you're rolling out an even coat, paint in zigzags. Work on a one metre (three foot) section and go one at a time.
On the ceiling make the first diagonals in a W pattern. Fill the spaces with uniform crosswise horizontal and vertical strokes that produce even coverage throughout.
Follow the same principle on walls, using an inverted W and filling in between.
Reload the roller with paint whenever it begins to paint unevenly.
When you reach door trim, window trim, and baseboard trim, use your brush or doughnut roller to cut in again. Then resume work with the full-sized roller.
Save the most difficult wall — the one with the most doors and windows — until last. If, however, you know you won't be able to finish in one session, work on walls that you can finish.
You don't want to stop midway on a wall, since there's a strong chance the interruption will show permanently.
An extension pole will save time
An extension pole for a paint roller is one of the best labour-saving painting tools you can buy.
The pole makes it easy to reach high areas — especially ceilings — without a ladder, which has to be moved every few feet.
Extensions screw into the threaded handle of most rollers.
Make sure that the connection is tight and secure before beginning to apply paint.
Don't let painting jobs intimidate you. With these tips, you can paint your room with ease and confidence.