Painting the interior of your home requires patience, so ensure you have the proper tools and approach the job in stages. These tips will get you on the right path.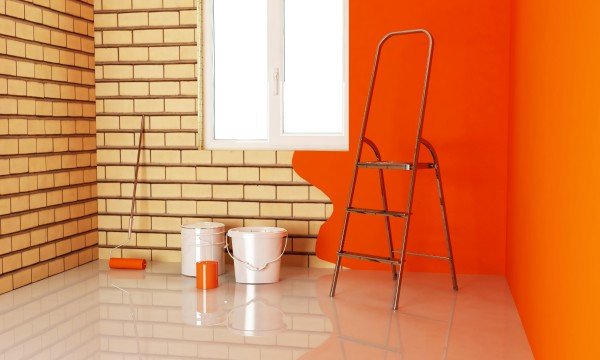 Preparation
Painting is a popular do-it-yourself job, and many amateurs find success. However, to prepare, you must get the right tools. Items to have handy include:
Wall-cleaning materials:
Start with soft cloths, natural sponges (otherwise dyes may stain the walls), a bucket, at least four litres of warm water and a generous dollop of dishwashing liquid.
If your walls are dirtier than average, add one cup each of white vinegar, washing soda and non-sudsing ammonia will work.
Rinse the walls using a second bucket of clean water.
Wait at least a day for the walls to dry.
Painter's tape for door frames, windowsills and woodwork:
Clean, straight edges will give off the impression the job was done by a professional painter.
Primer to apply before the main colour:
Without primer, you risk painting the wrong shades and having it unable to stick as well as it should.
Even better, add a bit of your main colour into the primer to reduce visible traces of the primer.
Patching compound:
You must take the time to adequately prepare your walls. This part of painting may be less thrilling, but take care to fill, scrape, patch and sand imperfections.
Wait a few days to ensure complete dryness before you proceed.
Paint, and lots of it:
Many people underestimate the amount paint they need. Plan to use about two cups of paint per 37 square metres.
General tips
Move your furniture and other odds and ends, or at least cover them with cloth or tarpaulins. Use paint sheets to protect your floors, photos and doorknobs. Canvas rather than plastic is safer, lasts longer and leads to less splatter.
Remove coverings for electrical outlets and other wall plates.
Furniture
Walls are not the only part of a house interior you can paint. Treating furniture to a makeover is an excellent way to make your home shine.
Use a mild cleaning solution (such as warm water and soap) to clean the furniture before you paint. More difficult jobs may need trisodium phosphate.
Sand furniture surfaces to help the new paint grip.
A bristle brush for the first layer of paint helps it stick best, while the final coat is fine with a foam brush or roller.
Depending on how you envision the furniture, you may also need a coat of wax or polyurethane.
The trick in the best paint jobs is preparing fully and giving each stage the attention it deserves. Cleaning and priming are not exactly fun, but they lead to a sharp look.